Specialty Courier and Shipping for the Fashion industry
We have set the trend in custom-tailored delivery for the fashion industry.
The latest fashions can turn heads only when they make the show. But because this business is constantly changing — what's hot, what's not, and who's wearing what — success in haute-couture can come down to a matter of minutes.
Magazine shoots, runway shows, store displays, and stock deliveries play a big role in getting the buzz our clients pursue to stay on top. That's why they rely on IBC's delivery solutions for the ultra-personalized, "we'll get it there no matter what" customer service that takes the worry off their hands and fulfills their shipping needs in style.
For years, the world's fashion leaders have made IBC their delivery resource of choice.
Entertainment and Film
IBC is always on the scene, and delivers for the largest names in the entertainment business.
"Chasing daylight" is a term often heard in the world of entertainment. That's because in this business, time is money — and to make sure a project stays on-time and on-budget, film and television studios need to be able to depend on a shipping partner who not only moves quickly, but also guarantees 24/7 support.
IBC has become that partner for some of the world's largest entertainment companies, offering the ability to change delivery times and locations on the fly, and offering customer service attention that's second to none. Account management teams are placed on every project for complete control and security, so you can be sure the show will go on — on time.
IBC takes care of some of the world's biggest entertainment companies.
Today, film and television are truly global products — and nowhere more than at IBC. Learn how we get it from script to screen and stage the world over, and contact a representative today!
Commercial Printing
IBC provides bulk shipments nationally and internationally for the largest names in printing.
We guarantee world-class delivery that's fit for print!
For printers, time is always of the essence. Major presses throughout the world find the total customizable solution in IBC, because our tremendous global resources are available with one call or click.
Our infrastructure allows us to beat delivery dates around the world, with time-sensitive documentation — like financial prospectuses, annual reports, shareholder communications, and other financial resources — that can make or break a printer's client. Our Account Managers make it their personal goal to use every capability in the IBC network to guide each shipment to its destination, with a sense of ownership and accountability.
Print materials for all types of industries have to be delivered on-time or else. If special transportation solutions are needed for your press, look to IBC and contact a representative today!
e-Commerce Freight Solutions
ECCF & CFS plus Last Mile Delivery Specialist.
IBC operates ECCF and CFS facilities strategically located across the USA, in key international airports for the most efficent and cost effective import and USA distribution.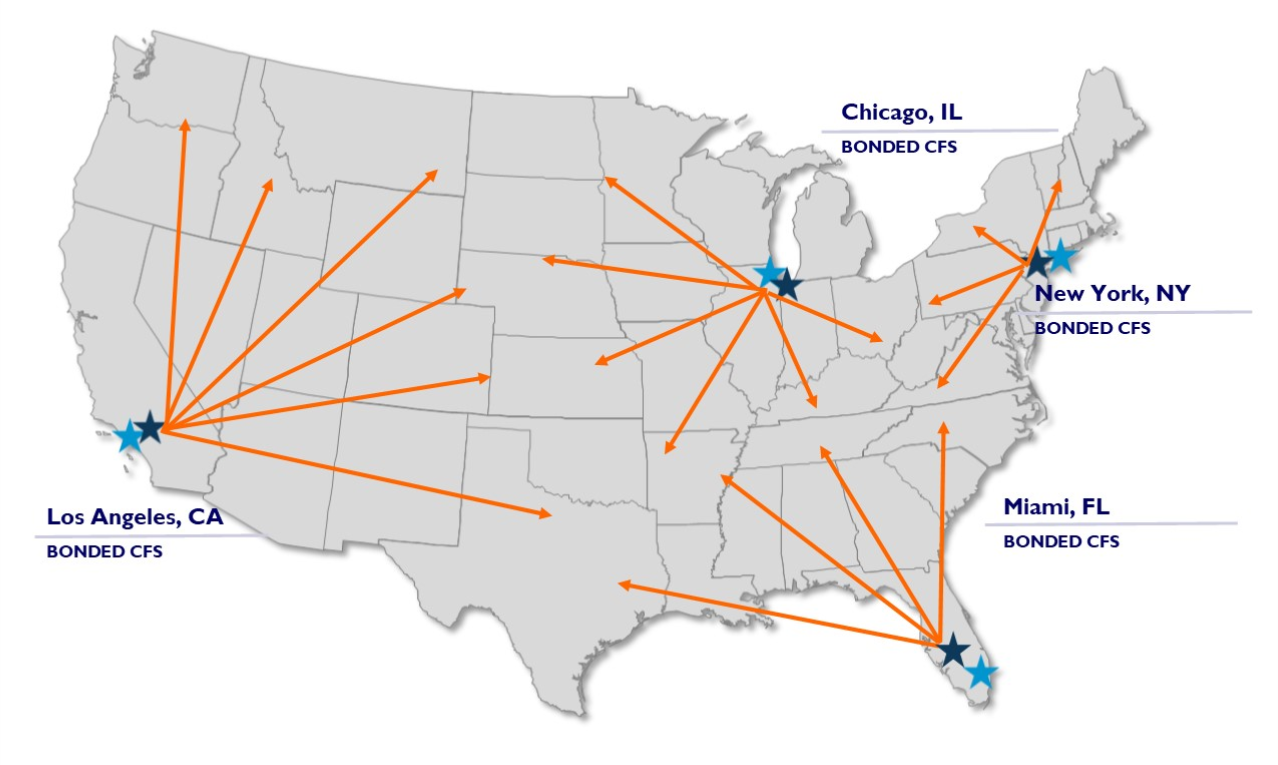 IBC provides a customizable suite of e-commerce solutions, including in-house Customs Brokerage, import, export - air and ocean ECCF and Container Freight Station (CFS) services.

RIBC is the largest operator of US Customs & Border Protection approved "multi-user" ECCF facilities in the USA
Section 321 Specialists

Expedited Section 321 clearance prior to arrival
Last Mile Delivery Specialist.

ECCF Clearance processed 7 days a week